Virtual Consultation
Whatever your questions or concerns about your appearance may be - one thing is for sure - you will never get a complete answer until you seek the advice of a professional.
Our approach to consultation has always been two fold. We offer our clients not only the solutions - but personalized treatments that address their very specific needs.
PROCEDURE: Tuliplift Facelift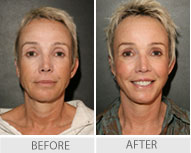 "I just wanted to look healthy and well rested!"
— Claire, 62, Real Estate Agent